Chip Paucek – Co-Founder & CEO, 2Tor
This Audiocast brought to you by our PROUD sponsors of excellence in leadership:
---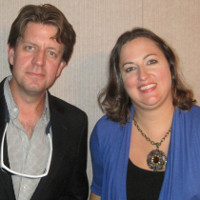 Chip Paucek is 2tor's co-founder and Chief Executive Officer. He previously served as 2tor's President and Chief Operating Officer. After graduating from The George Washington University with a bachelor's degree in political communication, Paucek founded Cerebellum Corporation, the company behind the award-winning educational Standard Deviants television program. Standard Deviants was distributed on over 100 PBS stations and was selected by TV Guide/Today Show as the top show for kids. After leading Cerebellum Corporation for a decade, Paucek co-managed the re-election campaign of U.S. Senator from Maryland, Barbara Mikulski. Senator Mikulski won the election in a landslide and set a state record for campaign contributions. Paucek then returned to education as the CEO of Hooked on Phonics and expanded access to the program by bringing it from infomercial sales to distribution across major U.S. retailers. When not 2toring, Paucek is most likely on his boat in the Chesapeake Bay with his wife, Gabrielle, and two sons.
from 2tor.com
Interview Air Date: August 11th, 2012