Ahmed Ali – President and Chairman, TISTA Science and Technology Corporation
This Audiocast brought to you by our PROUD sponsors of excellence in leadership:
---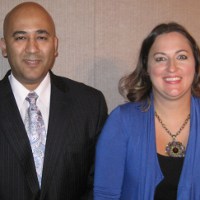 lp423a
Ahmed Ali started his career working for various firms in the D.C. Metro area while studying Engineering in college. With a passion to serve our nation in the Armed Forces, Ahmed joined the U.S. Navy. Upon completion of his military service, Ahmed received his B.S. in Information Systems Management from the University of Maryland (UMD), an M.S. in Information Assurance from Capital College (CC), and an MBA with a concentration in International Business from Jones International University (JIU).
Through Ahmed's leadership, TISTA is developing into a leading provider of innovative technologies and mission critical solutions to the federal government and various commercial entities. Ahmed brings with him over 20 years of military, federal government, and civilian experience in Engineering, Information Technology, Cybersecurity, and Project Management. As a United States Navy Veteran, Ahmed understands the mission critical requirements of the Department of Defense and the Intelligence community. While serving, Ahmed worked on various aspects of Engineering, Fire Control Radar, Weapons Systems, Electronic Warfare, Communications, and Information Technology. Ahmed served onboard an Arleigh Burke class Guided Missile Destroyer, and completed several deployments throughout the world in support of various military operations. Duty stations included Recruit Training Command (Great Lakes, IL), Naval Surface Warfare Center, (Dahlgren, VA), Pearl Harbor (Hawaii); Bolling Air Force Base (Washington, DC), and the Pentagon (Washington, DC).
Ahmed held senior level positives in IT and Engineering in support of the Department of Defense (DoD), Department of Justice (DoJ), Drug Enforcement Administration (DEA), National Aeronautics and Space Administration (NASA), National Security Agency (NSA); Naval Surface Warfare Center (NSWC), Naval Surface Warfare Center at Indian Head; and Defense Information Systems Agency (DISA). He also worked as a Patent Examiner at the United States Patent and Trademark Office. Throughout his military and civilian career, Ahmed has received many commendations and awards in the fields of Information Technology and Engineering including the US Navy's Sailor of the Year of Destroyer Squadron (DESRON 31) out of Pearl Harbor, Hawaii.
from www.tistatech.com
Interview Air Date: August 25, 2012