Louisa Jaffe – CEO and President, Owner (primary) and Co-founder, TAPE
This Audiocast brought to you by our PROUD sponsors of excellence in leadership:
---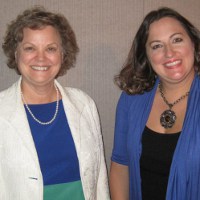 lp424a
As co-founder and CEO/President of TAPE, Ms. Jaffe manages TAPE's business affairs, client and corporate relations, and marketing outreach. Formerly Lieutenant Colonel Louisa Long Cullem, she served in the U.S. Army and Army Reserves for 28 years. She retired from the Army Reserves in 2002, after having been called to active duty in response to the events of September 11, 2001. During her military career, she served in the Pentagon as a Media Relations and Public Affairs Officer for the Secretary of the Army Public Affairs for more than twelve years, including service during the first Gulf War. Ms. Jaffe also provided public affairs support for the Army Materiel Command, the U.S. Readiness Command, TRADOC, the Army CIO, and the Deputy Chief of Staff for Intelligence. Throughout her military career in public affairs, she supported Army Senior Leadership as a spokesperson responding to the press on a variety of sensitive issues.
During the last half of her military career, Ms. Jaffe worked simultaneously as an Army Reservist and within private industry, where she has more than 30 years of experience in business ownership and management, public affairs, and information technology.
Ms. Jaffe holds a BA in English from the University of Florida (Gainesville) and a BS in Citrus Management from Florida Southern College (Lakeland). As part of her post graduate studies in business management, Ms. Jaffe completed certification training as an ORACLE Database Administrator as well as Masters level courses in Business at Central Michigan University. She is also a graduate of the Women's Army Corps Officer Basic Course, Army Adjutant General Officer Basic and Advanced Courses, and the Army Command and General Staff College.
Ms. Jaffe is a member of Women in Defense (WID), Women in Technology (WIT), Women Impacting Public Policy (WIPP), Retired Military Officers Association (RMOA), National Defense Industrial Association (NDIA), Renaissance Executive Forum and several women's and executive groups. She is also a member of the National Contract Management Association (NCMA) Executive Advisory Council and is on the Army Women's Foundation Planning Committee.
from ww.tape-llc.com
Interview Air Date: September 1, 2012