Albert Friedman – Founder, CEO & Chairman, Friedman Properties
This Audiocast brought to you by our PROUD sponsors of excellence in leadership:
---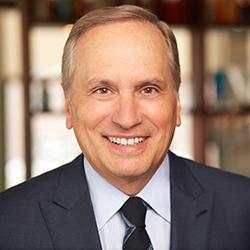 Albert M. Friedman is Chairman and CEO of Friedman Properties. Mr. Friedman has focused his career on fostering the revitalization of the River North community. Since its founding in 1970, Friedman Properties has redeveloped more than 12 city blocks. Throughout his career Mr. Freidman has worked on diverse projects including historic rehab projects, such as Medinah Temple, Court House Place, and the Reid Murdoch Center, as well as new construction such as a Class-A LEED certified office tower, luxury apartments, parking garages, and nine hotels. A tenth hotel is currently under construction with two more in the planning phase. Today, Friedman Properties owns and manages over 50 properties totaling over 4.5 million SF, which are home to 52 full-service restaurants and event spaces, including The Ivy Room.
Mr. Friedman's visionary practice of adaptive re-use, his development projects, and his leadership in the resurgence of Chicago's River North have earned him recognition as Chicago's leading preservationist, a top real estate developer, and a respected civic leader. Mr. Friedman is a graduate of both Northwestern School of Business and DePaul University School of Law. He has been recognized by the Chicago Bar Association and the National Conference for Community and Justice. He was also inducted into the Chicago Area Entrepreneurship Hall of Fame.
In addition to his notable achievements, Mr. Friedman is actively involved in a number of noteworthy charities and civic organizations. He served as Chairman of the Commission on Chicago Landmarks, the Workforce Boards of Metropolitan Chicago, and the Chicago Convention & Tourism Bureau and was President of the River North Business Association. Currently, he serves on the Executive Committee for the Northwestern Memorial Foundation's Board of Directors.
Mr. Friedman's passion for the City of Chicago and deep community roots are shared by his wife, Suzanne, their son, Jason and his family, and their daughter, Julie and her family.
http://www.friedmanproperties.com
Interview Air Date: June 19th, 2017