Cydni Bickerstaff – Founder and CEO, Bickerstaff Sports & Entertainment
This Audiocast brought to you by our PROUD sponsors of excellence in leadership:
---
http://www.leadersportfolio.com/images/stories/podcast/TheLeadersSpot045-2.mp3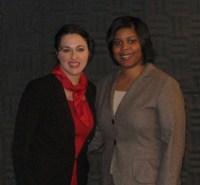 Named a "Woman to Watch" by Washingtonian Magazine (June 2006), Cydni L. Bickerstaff, is the CEO of The Bickerstaff Group. Cydni is a business-savvy entrepreneur who has used her innate knowledge of marketing, event planning and sponsorships to build a successful company.
Having held management positions with companies including collegiate marketer Host Communications, ASCENT Sports, the Denver Nuggets and the Colorado Avalanche, Cydni crafted her skills by working throughout the country. In addition, she's worked on a number of tournaments, classics, bowls and tours throughout her career.
Motivated to help athletes develop both on an off of their respective playing fields, as well as help historically black colleges and universities earn the respect they deserve, Cydni incorporated what was then known as Bickerstaff Sports and Entertainment in 2001. Since its inception, Cydni has grown her company into a full-service agency and she has established herself as one of the best in the field.
Known for her commitment to excellence, Cydni and The Bickerstaff Group have been recognized for their accomplishments locally and nationally. In November 2007, Cydni received the Top 100 Minority Business Enterprise Award, which salutes top minority and women business owners in the Washington, DC region. In 2006, Cydni was the recipient of the Black Retail Action Group's (BRAG) JJ Thomas Business Innovators Award. BRAG is a non-profit which promotes the acceptance of men and women of color in all levels of retail and retail-related industries. She has also been featured in Black Enterprise Magazine, Essence Magazine and the Washington Business Journal.
A graduate of Hampton University, Cydni obtained her B.S. in accounting and an M.B.A. from Florida A&M University. A native of Columbia, MD, Cydni is the daughter of Eugenia and Bernie Bickerstaff, Executive Vice President, Basketball Operations of the Charlotte Bobcats
from http://www.bickerstaffgroup.com./AboutTeam.html
Interview Air Date: April 16, 2008