Robert Kettler – Founder and Chairman, Kettler
This Audiocast brought to you by our PROUD sponsors of excellence in leadership:
---
http://leadersportfolio.com/images/stories/podcast/LeadersSpot014-2.mp3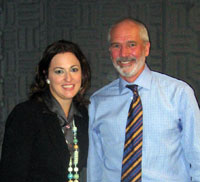 Robert C. Kettler is the majority shareholder, founder and chairman of real estate development company Kettler. Mr. Kettler founded Kettler in 1977 under the original name of Kettler & Scott, Inc. Prior to forming Kettler, Mr. Kettler began his career in 1973 constructing retail outlets for local chain stores and remodeling homes and small apartment buildings. He also developed several custom home communities in Northwest Washington in the early 1970's.
Under Mr. Kettler's leadership, Kettler has assembled, master-planned, zoned, and developed many of the largest planned communities in the Washington, D.C. Metropolitan area, comprised of over 40,000 dwelling units covering nearly 20,000 acres and, as a result, has become the largest land development company in the Washington Metro region. Examples of these communities include Sully Station, Virginia Run, Piedmont, Lorton Station, Cascades, Wellington, Potomac Station, Port Potomac, Brambleton, and Prince William Town Center. In addition, Mr. Kettler, through Kettler, developed and owns a majority interest in a portfolio of 12,000 apartments in the Washington Metro area, of which 9,000 units are managed by KSI and over 6,000 are either in production or in the pipeline for acquisition or construction. Kettler delivers approximately 2,000 units per year to the marketplace and is ranked among the top 20 largest multifamily developers in the U.S.
Mr. Kettler has developed many mixed-use commercial developments with over 5 million square feet of retail and office uses. Several projects are stand-alone developments, including the two million square foot Trinity Centre and 1.5 million square foot Middleton project, both in Fairfax County. However, most mixed-use projects developed by Kettler are embedded in planned communities and consist of neighborhood and community retail and employment uses. Kettler has developed 14 food-anchored centers and associated neighborhood employment developments in this format.
Kettler is the developer of the Lowes Island Club in Cascades in Loudoun County, Virginia, and the Piedmont Golf Club in Prince William County, Virginia, both Tom Fazio designed courses. His firm acquired and remodeled the Goose Creek Golf Course in Leesburg, Virginia in 2000. In addition, the Company planned the Brambleton golf course in Loudoun County, which he sold to the Northern Virginia Regional Park Authority in 1993. Kettler is currently developing two new championship golf courses, one in Eastern Prince William County, Virginia, and one in southern Fairfax, Virginia.
In 1986, the National Association of Home Builders recognized Mr. Kettler as Developer of the Year. Kettler has received hundreds of awards for housing design, land planning, and urban design. These include awards from the Urban Land Institute, Fairfax County (for environmental engineering and tree preservation), community associations as well as industry associations and publications.
Mr. Kettler has served on the Board of Directors of the Northern Virginia Building Industry Association, the Northern Virginia Political Action Committee, the Washington Metropolitan Area Boys Club, and Venture America (a Washington-based venture capital group), and Metropolitan Memorial United Methodist Church. He was on the Board of Trustees of St. Patrick's School in upper northwest Washington, D.C. and was chairman of the building committee. He has also served on advisory boards at George Mason University and Northern Virginia Community College.
A native Washingtonian, Mr. Kettler attended the George Washington University and American University for four years between 1970 and 1974, concentrating in economics and real estate. He and his wife Charlotte have been married for 20 years and have four children.
Interview Air Date: September 12, 2007