Matt O'Connell – CEO, President, and Director, GeoEye
This Audiocast brought to you by our PROUD sponsors of excellence in leadership:
---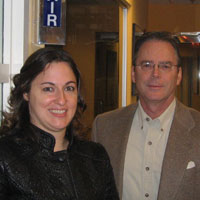 Mr. O'Connell has over 20 years of experience in communications management and finance. He came to the commercial remote sensing industry in 2001 as CEO of GeoEye's predecessor, ORBIMAGE. In January 2006, Orbimage merged with Space Imaging to form GeoEye, Inc. In 2008, GeoEye was selected by the Washington Business Journal as number four of the Fastest Growing Companies in the Washington D.C. area. In September 2008 and for the second year in a row, Deloitte named the company as a "Technology Fast 50" award winner and ranked GeoEye number 10. In May 2008, GeoEye was ranked number 82 in the Washington Post's "Top 200" companies in the Washington, D.C. area based on 2007 revenue. In January 2008, O'Connell was appointed by the Department of the Interior to serve on its National Geospatial Advisory Committee. He was also elected to the U.S. Geospatial Intelligence Foundation's (USGIF) Board of Directors and in October 2007 was presented with their Industry Leader award. In June 2007, Mr. O'Connell was named "Entrepreneur of the Year" by Ernst and Young for Communications in the Washington, D.C. region.
Prior to joining GeoEye, Mr. O'Connell was a managing director at Crest Advisors, a New York-based private merchant bank that invested in and advised communications companies, and senior vice president of Legal and Business Affairs for Sony Worldwide Networks, a division of Sony Corporation specializing in radio and Internet programming. Before working at Sony, he served as senior vice president and general counsel of Osborn Communications Corporation, a publicly traded radio and television station operator. Prior to his tenure at Osborn, Mr. O'Connell was the assistant general counsel at Cablevision Systems Corporation, where he was responsible for acquisitions and finance, including the company's initial public offering. Mr. O'Connell began his career on Wall Street as a lawyer specializing in mergers and acquisitions and corporate finance. Mr. O'Connell holds a Bachelor of Arts degree in Classics from Trinity College, where he was elected to Phi Beta Kappa, and a Juris Doctor from the University of Virginia Law School.